How to Choose the Right Size Artwork
I've compiled this helpful list of tips and tricks to help ensure you choose the perfect canvas size for your new, custom painting. These tips can be used whether you are commissioning a custom artwork, or are looking to purchase original art or prints.
One of the most frequently asked question, to any artist is "what is the right size of artwork for my home/space?". So, I have compiled some knowledge in the pursuit to make you maybe more aware on how to choose the right size for your new artwork. An artwork that is way too small for a space will be underwhelming and even awkward to look at while an artwork that is way too large for a space can swallow a room and dwarf any other feature that may be present. So it is important to balance the artworks in ratio to the size of the space and its surroundings.
Generic Canvas Sizes
In the Malta, canvas sizes are expressed in meters/centimeters and there are quite a few generic sizes that can guide you. Uncommon canvas sizes can be custom made or ordered from specialty shops but we will focus on the most common sizes for our purposes here. I have included both rectangular and square options as well.
Mini Canvas Sizes
Mini canvas sizes usually range anywhere from 10 cm to 20 cm.
Such canvases are great as they provide extra detail. These canvases are very tiny and should be used as little decorative details - perhaps sitting on a shelf or as part of a collage of wall art and photos. Great for any room that needs a little extra touch. They can be wall mounted in a greater collage or just framed.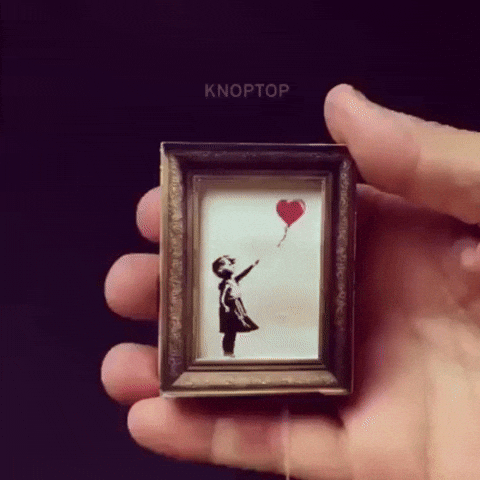 Small Canvas Sizes
Small canvases are anywhere between 20 cm to 35 cm.
Such canvases are a great way to decorate inlets, hallways, little walls, small rooms. Small canvases are great for nooks and crannies of your home, decorative inlets, hallways and for spaces that are usually narrow. Narrow spaces should not have larger artworks as usually it would cramp the space. Small Canvas are also awesome presents since they can be moved with ease and also very portable.
Medium Canvas Sizes
Medium canvases range from 35 cm up to 60 cm.
These medium canvases are ideal for kids bedrooms, bathrooms, small kitchens and man caves/dens. Medium canvases do make a statement, however, they are often not the only piece of art on a full-sized wall and should always be complimented by other artworks. These canvas sizes are typically placed on a wall with other art, on a thinner wall or in any other smaller rooms.
Large Canvas Sizes
Large Canvases range from 60 cm up to 1 m.
These types of canvases are ideal for larger rooms, master bedrooms, great rooms, game rooms and any room/space which is large enough not to make the artwork/painting look very big. Large canvases are great for bigger rooms like adult bedrooms or living rooms. They make beautiful centerpieces above the bed or sofa. They grab the attention of the entire room and can be placed with no other artworks to compliment them unlike medium canvases.


Statement Canvas Sizes
Statement Canvas range anywhere larger than 1.5 m.
These types of canvases are created and made for large rooms, master bedrooms, great rooms, game rooms and any space that requires a customized solutions. These are epic to say the least since they are specifically created to wow the audience. These are typically chosen for larger spaces with higher ceilings, however they can be created to fit regular rooms to provide a statement. These statement canvases really make an impact in a room and definitely deliver a feel-good factor.


Measuring Your Space
So, know that you are acquainted with the basic knowledge of canvas sizes and understand the different settings of how it will display in a room - it's now time to measure your space. For this you need to first have a place for the artwork (duh), then you need to choose where you want to display your work of art and measure the walls both horizontally and vertically. If the painting will hang above a fireplace, bed or sofa you will need to measure the wall from the top of the piece of furniture to the ceiling. If there is another work of art on the wall that you do not want to move, measure from that artwork to the edge. You need to determine exactly how much space you have before you can start choosing a canvas size. As a rule, when hanging a painting over anything it should measure about 75% of the width of the underlying furniture.
Three-Eighths Rule
The three eighths rule is a great way to place your artworks. The rule simply states that for any empty wall, a painting should leave room on the wall equal to about three-eighths the width of the painting on each side. However, this is only a guideline and one should really consider personal preference should always be considered.
Framing Artworks and Size
Depending on the artist you choose, your custom painting may or may not be "ready to hang" without a frame. If you need or want to frame your work, make sure to consider this when choosing a canvas size. Even a simple frame will add cm to your artworks and add to both the length and the width of your work. There are various types of frames and therefore one should really consider what type of framing they will be having since it would also change the size.
Please feel free to contact for any further advice. Please also like and share the article to any friends or relatives that might need some guidance.
Artworks for sale (any-size) can be found by following the link;
https://www.montebellodigitalart.com/gallery